In addition to the rather impressive Olympics skit featuring Daniel Craig escorting the Queen to the event (and not no transgender showgirl, the actual bonafide Queen! The one with the throne and dangly.. pearls!), Sony chose to run a new TV spot for "Skyfall", Craig's latest venture as Jimbo Bond, during the commercial breaks. I dunno about the rest of you rascals, but having been sleeping while most of you were watching the opening ceremony, this was actually the first time I'd caught the Bond teaser – looks beaut; and if I were a betting man, I'd place a few bob on this one making some Moneypussy down at the Casino Royale come November
The latest mission for MI6-er Bond is handled by Sam Mendes, of "American Beauty" fame, and also features Dame Judi Dench, Ralph Fiennes, Bérénice Marlohe, Naomie Harris, Javier Bardem and Grace Jones as a tall, leggy vixen… oh wait, that's the wrong Bond film. Consider Jones a late scratching.
Ya know, it mightn't be my favourite Bond movie, but I do love the theme from Jones's venture into 007-ville "A View to a Kill" :
---
---
Zambezia': 3D animation puts S.Africa film in the picture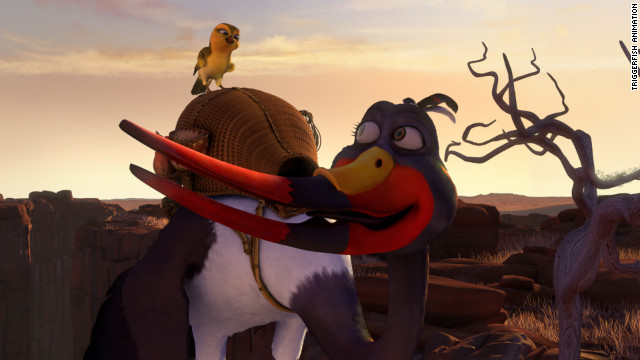 STORY HIGHLIGHTS
"Zambezia" is a new South African 3D animation feature film
The movie stars the voices of Samuel L. Jackson, Jeremy Suarez and Jeff Goldblum
It has been chosen to close the 33rd edition of the Durban International Film Festival
"Zambezia" is targeted toward children aged five to 11
(CNN) -- He's got blue wings, an adventurous spirit and is poised to be the latest film star to come out of South Africa.
A high-spirited young falcon, Kai is the main character in "Zambezia," a new South African 3D animation film featuring an all-star voice cast, including Hollywood A-listers Samuel L. Jackson, Abigail Breslin, Jeff Goldblum, Leonard Nimoy and Jeremy Suarez.
Set in the majestic Victoria Falls and inspired by southern Africa's startling artwork, "Zambezia" is hoping to put South African animation on the map while enthralling children around the world with its uplifting message of togetherness.
The movie, produced by Cape Town-based Triggerfish Animation Studios, has been selected as the closing film of the 33rd edition of the Durban International Film Festival, which runs until July 29.
"The film is a wonderful ambassador, in a way, of South Africa and I think as it travels the world it's going to spread the word about an industry that is young and vibrant and extremely talented," says "Zambezia" director and co-writer Wayne Thornley.
"In and of itself, I think it's just an enjoyable ride for children and they're going to come away wishing they could fly."